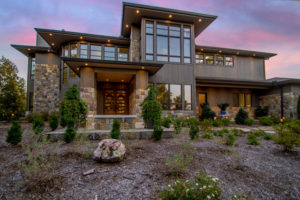 We are a team of custom home builders, specializing in the design and construction of high-quality, high-performance homes. Our in-house 3D design capabilities enable us to give our clients a unique 3D design experience where they can virtually walk the space of their dream home before it becomes reality.
We tailor each design and build each home with high performance materials and systems to provide the healthiest, most comfortable, most durable, and most energy efficient homes in Central Arkansas.
We are the most active Energy Star® Builder in Central Arkansas and were the builders of the first in the United States, and third in the world, single-family home to meet L.E.E.D. v4.1 Platinum standards and the only Net Zero home in Arkansas.
The team is led by Keith and Patty Wingfield.  Keith is a Certified Graduate Builder, Certified Green Professional, and LEED AP.  Patty is a Certified Green Professional and Certified Aging-in-Place Specialist.  Keith and Patty began building for customers in 1999 after building their personal home in Little Rock.  The team is rounded out with Ryan Renard as Project Manager and Christin Hayes as Office Manager/Bookkeeper.